Roofing, Siding, and Window Overhaul: Which Comes First?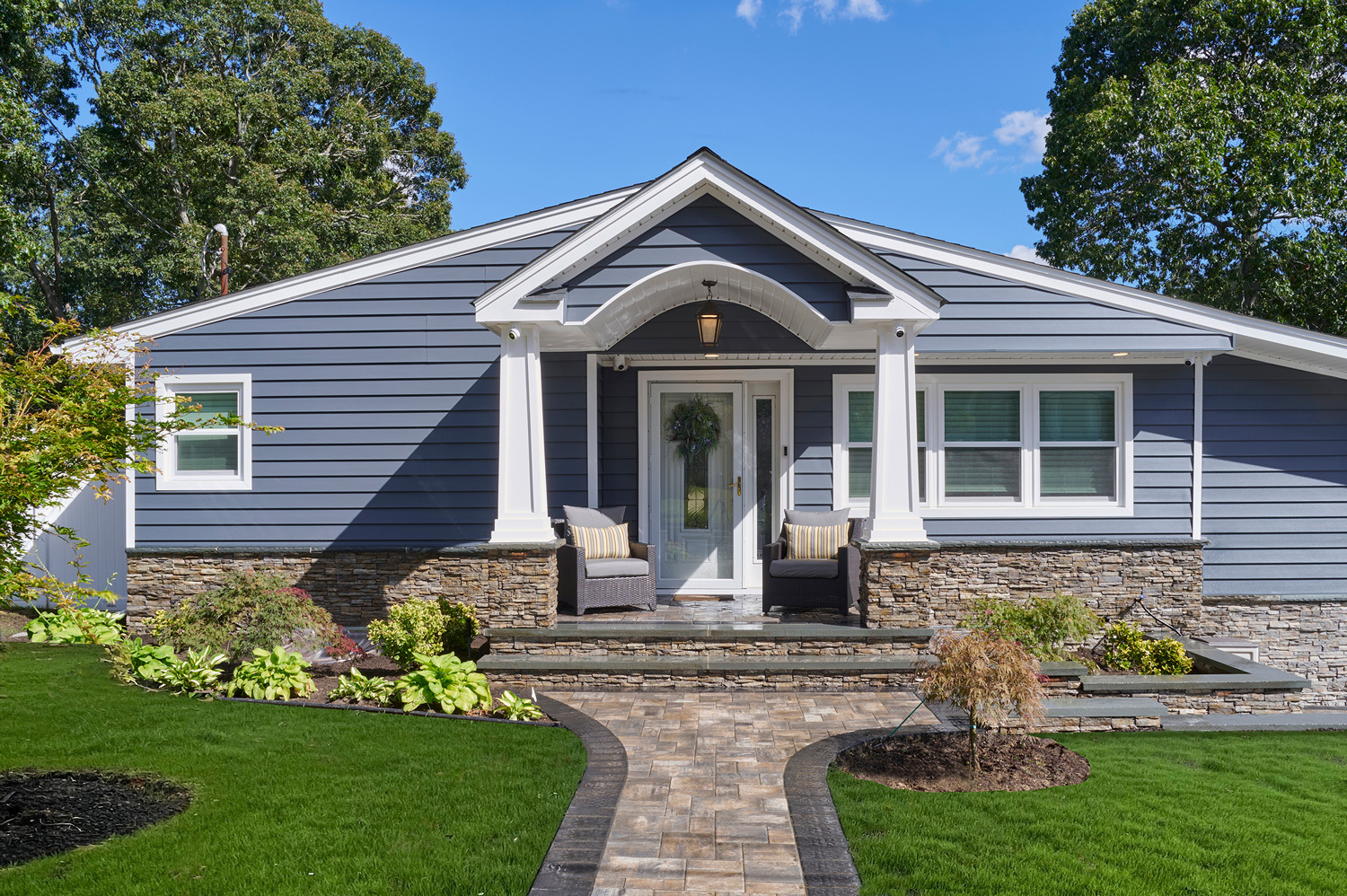 Your roofing, siding, windows, and gutters together tackle the tremendous task of protecting your home against the elements. From safe-guarding your home against the threat of rainwater to shielding your family from harsh weather elements, your home's first line of defense against Mother Nature begins with asphalt shingles, vinyl siding, triple-pane glass, and aluminum gutters.
Long Island is a wonderful place to enjoy life inside a one-of-a-kind home built to stand out in the neighborhood. A major remodel including a new roof, siding refresh, and window upgrade can make your home look brand new again. More than just protect your home, new roofing, siding, and windows beautify your home.
However, every home element ages over time. Roofing, siding, windows, and gutters approach their last legs around the 20 to 30-year mark. In some cases, roofs can leak, siding can crack, windows can draft, and gutters can sag all at the same time. The dilemma raises the question: should you tackle everything at once or one at a time—and in which order?
The logical way to upgrade your home
It's hard to know the right order of projects. However, it's easy to understand the number one goal in home improvement: to minimize damages during construction. For that reason, most contractors recommend replacing the roof, windows, siding, and gutters—in that order.
The logic is simple: install in a way that prevents damage to new projects caused by previous projects. If you install siding first, a new roof installation could damage the siding. If you install windows first, a new siding installation could leave you stuck paying twice for trim wrapping around the windows. Elements like flashing—which integrate into both the roof and siding—create double the work when you install the siding first.
Smart contractors install windows before siding to easily set the windows in place and finish off all the capping that surrounds the windows. Installing siding first could damage the capping on the existing windows, leaving you with repair costs. The need to remove siding to install new windows makes the order an easy decision, which also comes into play when adding a moisture barrier behind the siding.
Since roof demolition can damage siding, roofers must exercise extreme caution when installing a new roof after a new siding project. The same thinking applies to gutters and downspouts. Starting with the roof makes more sense. When the project is finished, the roofing, siding, windows, and gutters will be in perfect condition.
Step one: The roof
A new roof is one of the best projects in home improvement with the power to change the look of a home, improve safety, and increase energy efficiency and comfort.
Unlike old roofing systems, modern shingles are designed with the environment—and your wallet—in mind.
Built with increased insulating values and cool roofing options, modern shingles increase heat deflection, sustain a constant interior temperature year-round, and cut down on heating and cooling costs.
Everyone can benefit from a more stable and comfortable interior temperature, especially in our post-pandemic world where we spend more time at home.
Old, damaged roofs are a huge safety hazard for water damage, mold, and mildew. More than just a safety and security risk, extreme weather can lead to expensive, unexpected, and urgent repairs.
Whether your goals are aesthetic, functional, or energy-conscious, choose to install a new roof before you tackle the windows, siding, and gutters.
Step two: The windows
Today's versatile selection of windows adapts to suit any style and taste with frames available in a wide range of colors and finishes.
Beyond creating the aesthetic look you want for your home, energy-efficient windows create air-tight homes with no gaps to prevent costly air from leaking inside or outside your home.
More than just save energy, modern windows protect against noise pollution, elevate interior comfort, and improve home security.
Whether you need new windows for the style upgrade or the climate control, choose to tackle this part of your home improvement overhaul after the roof but before the siding.
Step three: The siding
Nothing creates a unique character and charm while protecting the interior structure of a home from the elements like new siding. Beyond the boost in curb appeal, vinyl siding makes a home more functional, protecting the inside from rain, humidity and moisture, high and low temperatures, insects, and pests.
Siding in peak condition works harder to protect your home than siding worn out over time. Siding ages over time, fading into less vibrant colors. New siding freshens up a home exterior with a change in color and enhanced architectural details.
Old siding can leak rainwater around the windows and cause structural damage to the home exterior. Sometimes the damage is obvious. Other times, you need to remove the siding to find the damage hidden underneath. A new siding installation is a chance to repair structural damage from the outside without causing problems to the home interior.
New siding also adds insulation to exterior walls for a boost in energy efficiency, especially in older homes built with no (or minimal) wall insulation. Refacing your siding is always a good time to add insulation behind the façade with easy access to the area.
Whether your siding is cracked and warped or desperate for a more vibrant color, choose to install new siding after the windows but before the gutters.
Step four: The gutters
There's a reason for saving rain gutters for last. Gutters are attached to the siding, which means you would need to remove and reattach all the gutters just to install new siding. Saving the gutters for last also saves money by lowering the risk of damage.
The strenuous job of stripping a roof, for example, could damage a gutter system. Installing gutters before the roof means taking down the new gutters to replace the soffit, fascia, and siding (which attaches to the gutters). Hire a roofer first rather than install, uninstall, and reinstall a new gutter system.
There is one exception to the rule: if your gutters are falling off and pooling damaging water around your home's foundation, landscape, deck, or siding, then consider installing the gutters first.
Doing all projects at the same time
Timing is important. With good execution and weather, you can get new roofing and siding installed in two weeks. Most contractors can install one new window in 30 minutes, which is about an eight-hour job for a 16-window home.
A lot of organization goes into planning more than one project from material selection to project management.
Budget is another concern—so be realistic. If you lack the budget for a complete overhaul, stagger the projects over time and start with the roof.
Construction also brings disruption to your home. Figure out if you need to find temporary accommodations or arrangements to avoid the noise and mess.
Royal treatment for you and your home
Ready to upgrade your Long Island home with new roofing, siding, windows, and gutters? Our decades on the job and exclusive partnerships mean leading manufacturers trust us to install only the highest quality products. And our affordable financing makes your dream of a unique, quality-driven home a reality.
We put lifetime warranties, certified and award-winning installers, and low monthly payments behind every project to turn homes into castles. Call us today at 631-573-0642 to schedule a free consultation—and discover royal treatment for you and your home.
Finance your dream home
Start today. Pay tomorrow.
Approval in 30 seconds or less.
More than 95% of our applicants get approved. So your dream home is just a quick phone call away.
Get Started