9 New Long Island Home Window Trends for 2022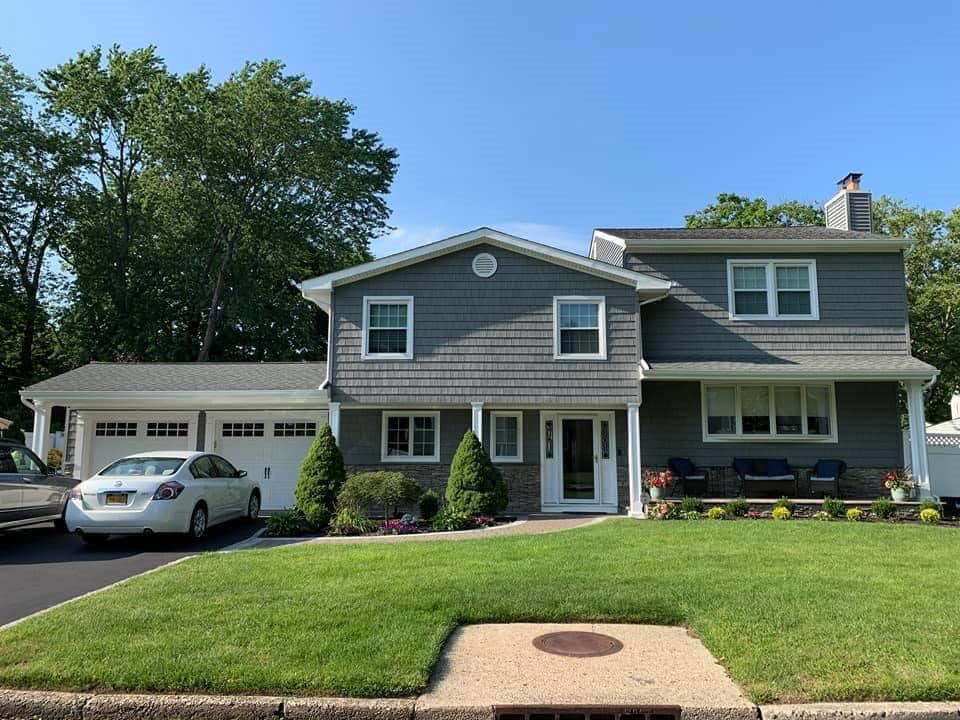 Out of all the functional elements of a home, windows play one of the most crucial roles in overall design. New home windows can singlehandedly change the whole feel and style of a home from inside your living room and standing at the curb.
In the past, we focused more on window function and less on window design. Today, windows come in all shapes, sizes, and styles, bringing architecture and design together in perfect harmony to impact both the interior and exterior of a home.
2022 is as good a time as any to upgrade your home windows. Maybe you bought a home here decades ago and your property value is up 8% since last year. Perhaps you just moved here from your tiny New York City apartment and want to introduce your own signature style. Sometimes you just want to switch things up.
Ready to make new home windows the centerpiece of your next chapter in interior and exterior design? We've got the top nine home window trends to consider in 2022.
1. Unexpected placement
Home window trends are not just about how your windows look from the inside—the outside matters, too. Unexpected windows in unique places are trending across Long Island neighborhoods.
Less is more when it comes to this show-stopping trend—so don't put windows everywhere. The goal is for the windows to make sense with the flow of your home while adding value. An extra window in places like hallways, staircases, and bathrooms promotes a more finished look.
In the bathroom, you can never go wrong with transoms and filtered picture windows designed to bring in that beautiful, mood-boosting natural light that shines as much as 15 lovely hours a day right here on Long Island.
2. Large and oversized
In the wonderful world of home windows, bigger is always better. Large and oversized windows elevate exterior aesthetics, make homes appear more modern, and make spaces appear larger—all while raising the value of a home. Bathrooms, hallways, staircases, and closets are all good candidates for an extra dose of double or triple pane glass.
With open-concept homes gaining popularity across Long Island since the pandemic, large and oversized windows work wonders in multi-purpose rooms and spaces. There's no better way to unify spaces, make rooms more welcoming and functional, introduce the warmth of more natural light, and express your signature style in your unique living space.
Experiment with large, oversized, and out-of-the-ordinary windows in the main spaces of your home. Whether your goal is to emphasize the view of your home or just create a statement, there's nothing quite like a huge piece of glass on a wall.
Picture windows are picture-perfect for elevating your home from builder's grade to professional interior designer quality. Custom sizes promote that individually created look, bringing the outdoors in and flooding rooms with as much natural light as possible.
Another option is expansive, floor-to ceiling windows that span entire walls. (You can forget about hanging curtains or blinds that obstruct that fantastic view.) Large bay and bow windows—and especially box bay windows—also achieve that trendy oversized look.
Unlike traditional bay windows that protrude at an obtuse angle, box bay windows open at a sharper, more modern 90-degree angle that widens the field of view and creates plenty of room for a built-in window seat, enhancing your home with cozy comfort, practical storage, and an eye-catching focal point.
3. Opening to outside
Trendsetting home windows in 2022 bring the indoor and outdoor together, giving you the power to take advantage of space, improve your home's functionality, and make areas flow together better.
During quarantine, Long Island homeowners craved spending more time outdoors and learned how to transform a backyard or patio into a lovely oasis. Outdoor space became the top reason New York City apartment dwellers moved to Long Island in the first place.
Windowed doors create the most dramatic impact—more than just see the outside, you can get there, too. Combine more than one set to take your fun home addition to the next level.
4. Black is back
White window frames will never go out of style—but black is the most stylish color and the most widespread home window trend in 2022. Requests for black in the home jumped 200% over the past few years.
Black contrasts beautifully with the more traditional white, creating both subtle pops and dramatic boosts inside and outside of the home. The color fits every home style, impacts every space, and suits any interior and exterior architectural design, decorating style, and color palette.
The simple swap from white to black can transform ordinary design into a custom, unique, versatile, and sleek aesthetic. Timeless and classic black frames and sashes even eliminate the need for window treatments, creating an ideal frame for a great exterior view.
From the most rustic rural to the most ultra-modern, black windows add up to 15% more value than regular white windows. Black hardware on windows does the same thing black frames do, adding subtle color to create cohesion throughout your home.
5. Rich colors
Black is not the only color trending inside and outside of the home. Lively colors on window frames help a home stand out in the neighborhood with an elevated curb appeal.
Rather than paint wood windows, make the switch to vinyl window frames in rich colors which require less frequent and laborious maintenance all while preserving your window framing for years to come.
6. Arch shapes
Arch shapes are a less universal trend showing up in more homes in 2022. This showstopping, out-of-the-ordinary window shape stands out in any space, creating a main focal point that adds character, charm, and a different aesthetic than other homes that takes you a small step back in time.
In the past, architects reserved arch shapes for churches, schools, and commercial buildings. Today, the window trend helps homeowners make the full jump into custom interior design.
Unlike traditional square or rectangle windows, arch shapes add a curved element to a home's façade that brings in extra light. Arches can incorporate more intricate designs and more interesting light patterns that add balance to a home otherwise dominated by straight lines.
Expect to pay more for arch shapes and custom installation. However, nothing complements the horizontal and vertical lines of traditional windows quite like a beautiful arch shape.
7. Energy efficient windows
Energy costs are soaring to all-time highs. Natural gas and electricity prices are up almost 90% year-over-year across the country. New York already has the fifth most expensive utilities in the United States with an average monthly cost of $174 for electricity, $103 for natural gas, $61 for internet, and $40 for water. Energy efficient windows can save you hundreds of dollars in utility expenses every year.
The perfect fusion of style and functionality, this huge trend in home windows is a great solution to make your home more energy efficient. Energy-star rated windows designed with a tight seal hold in temperature-controlled air and lower power usage for a simple change with an amazing impact.
8. Feature windows
The goal of interior design is balance between all elements working together for a cohesive look and feel. You want to add interest with unique touches that keep your interior from feeling flat and boring.
Windows as the feature of a room bring attention without overpowering other elements. This focal point and feature accent creates the perfect backdrop for any style. Universal and pleasant, feature windows work in any space, style, and location.
9. Window accessories
Simple design details can transform the finished look of a small window, a whole room, or even an entire exterior appearance.
Finishes on hardware—from handles and hinges to latches and levers—make a unique design statement. Etched patterns in glass add an incomparable flair while custom decorative grilles create a unique personality, adding exceptional beauty to otherwise plain and boring windows.
The bottom line
New home windows give you the power to take something ordinary and make it special, influencing the whole design of your Long Island home. Unique windows make whole spaces feel more special, intentional, beautiful, and structurally sound. When it comes to fun, new features for your home that add function and more natural light, nothing compares to a gorgeous new window.
Royal treatment for you and your home
Ready to upgrade your Long Island home with new windows? Our decades on the job and exclusive partnerships mean leading manufacturers trust us to install only the highest quality products. And our affordable financing makes your dream of a unique, quality-driven home a reality.
We put lifetime warranties, certified and award-winning installers, and low monthly payments behind every project to turn homes into castles. Call us today at 631-573-0642 to schedule a free consultation—and discover royal treatment for you and your home.
Finance your dream home
Start today. Pay tomorrow.
Approval in 30 seconds or less.
More than 95% of our applicants get approved. So your dream home is just a quick phone call away.
Get Started