New Home Windows: 8 Things to Think About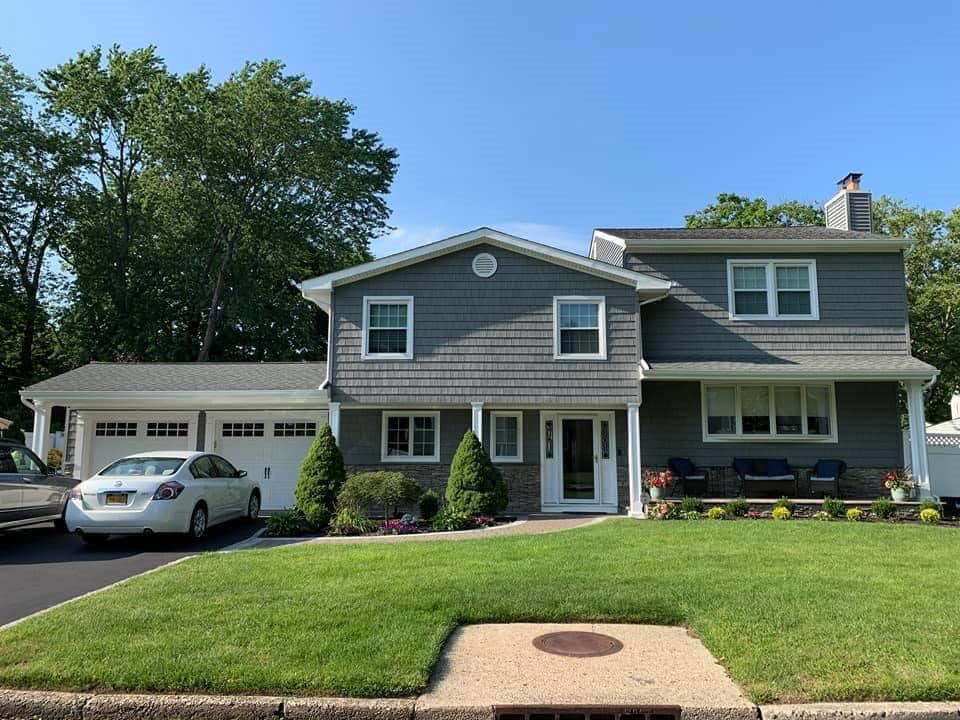 Sometimes, our home windows tell us when it's time to swap out the old for something new. A living room draft, damaged sash, built-up fog or condensation between the panes, or rotting window frame signal us to make the switch.
Other times, we're in control of the timing. We install new windows to remodel our homes, update our interior style, improve our curb appeal, and lower our energy bills. And since homeowners recover almost 80 percent of the project cost for vinyl windows upon resale, the right time for you to replace your windows could be right now.
Chances are time, Mother Nature, or personal preference will get you thinking about new home windows. Whichever happens first, we've got eight things for you to consider.
1. Window type, material, and panes.
The first thing to consider is window type. Before you invest in new construction windows, consider replacement windows as a money-saving alternative. Made-to-measure and designed to fit your existing frame without removing the siding or window trim, replacement windows are less involved, more cost-effective, and just as impactful.
There are also frame materials to consider. Wood, fiberglass, and vinyl top the list of good insulators built for colder climates. However, vinyl stands out as the affordable, durable, and low-maintenance option that requires no repainting. Still, there is no one size fits all material. There's only the best material for your unique location, climate, age of your home, and position of windows within your home.
Next is the number of panes. Poor insulation and easy breakability made single-pane glass the less popular option. Double-pane glass is the standard, which traps air between the layers to eliminate heat loss. Triple-pane glass offers even more insulation and noise reduction for an extra price, which could be money well spent if you live near a noisy airport or highway.
2. Your environment.
Homes in different areas with different moisture levels, altitudes, and temperatures demand different types of windows. Homes located in the desert, along the coast, and up in the mountains where it snows each require a different solution. There is no one window that fits every environment. However, an expert can help you find the best one for your home.
3. Window style: to switch or stay the same?
We replace windows for many reasons from functionality and energy efficiency to design and more. However, before you replace your current window with the same window style, consider what you can do to upgrade your home. Now is the chance to make your new windows unique or special.
For example, select a slider window to replace a picture window, giving you the option to open the window. Sliding windows are great in kitchens and family rooms where you want great light and unobstructed views. If you want more natural light, you could simply swap out a smaller window for a larger one.
You could also swap out double-hung windows for more energy efficient casement windows that fit not only fit the opening but also your own personal preference and style of your home. The bottom line: a replacement window project can also be a home enhancement project.
4. How light moves through your house.
We can't always control how light moves through our house. However, we can get strategic about window placement.
If you don't want sunlight at 6am, avoid a window on the eastern wall of a bedroom. (And especially a in kid's room unless you want them jumping out of bed at sunrise.) By the same token, if you're bothered by intense light in your eyes during 6 o'clock dinner, avoid western-facing windows in the dining room.
5. Your home's architectural style.
Your home's architectural style can guide your new window selection. Explore other homes in the same aesthetic as yours to uncover the colors and styles that feel natural to your style of home. Explore gridded, picture, double hung, bay windows, and more to find the one that draws you in.
6. The right manufacturer.
Different manufacturers offer different warranties on glass, installation, and other components. A reputable manufacturer not only stands behind their product and installation with a certified warranty but also offers decades of experience, a large selection of window styles and materials, a commitment to energy efficiency, and fair and affordable pricing.
7. Find the right window installer.
Find a licensed, bonded, and insured installer for extra peace of mind. The right window installer has the experience and knowledge to install your windows the right way the first time and avoid exposing your home to the elements. Finding an installer recommended by homeowners in your area that checks all the boxes will help you sleep at night, whereas hiring the wrong installer could cost you in the long run, turning your window replacement project into a nightmare.
8. Think of it as an investment (rather than expensive).
Most homeowners replace their windows once or twice in a lifetime. It's great to stay within your budget. However, you get what you pay for. So, consider the long-time value over the price tag.
Windows with insulated coatings cost more than standard windows but deliver more long-term benefits. Triple pane windows cost 10 to 14 % more than double pane windows. However, if you plan to live in your home for long time and live in a colder climate, more panes with better insulation are worth the investment, even if just for the energy bill savings.
The bottom line: windows are expensive—but the investment pays for itself in the long run.
Royal treatment for you and your home.
Are you ready to replace your home windows? At King Quality, our decades on the job and exclusive partnerships mean leading manufacturers trust us to install only the highest quality products. And our affordable financing makes your dream of a unique, quality-driven home a reality.
We put lifetime warranties, certified and award-winning installers, and low monthly payments behind every project to turn homes into castles. Call us today at 631-533-5204 to schedule a free consultation—and discover royal treatment for you and your home.
Finance your dream home
Start today. Pay tomorrow. One year. No interest. No payments.
5.99% interest rate after first year.
*Only on Simonton 9800 series, KingWall & Millenium 7 part roofing system.
Approval in 30 seconds or less.
More than 95% of our applicants get approved. So your dream home is just a quick phone call away.
Get Started