Long Island Home Exterior Design Trends for 2021 and Beyond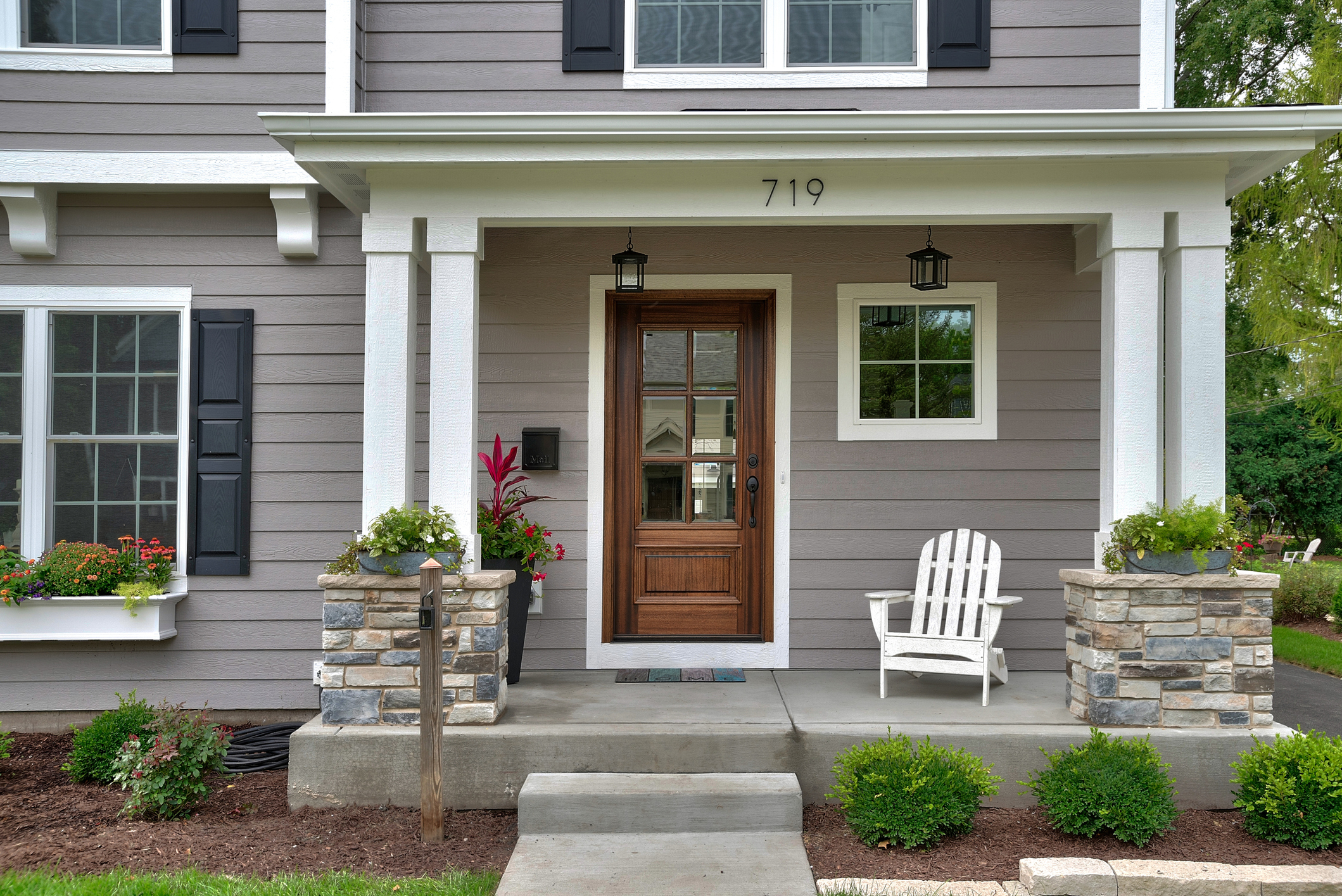 Nothing sets the tone of a home like a polished, thoughtfully designed exterior. Bold design choices can elevate your Long Island home's curb appeal, exterior ambiance, and value, creating a setting and lifestyle tailored to your own unique tastes, character, and style. Some design choices are purely aesthetic while others are more eco-conscious. Whatever your home improvement goals, we've got the top design trends to transform your home exterior in 2021 and beyond.
Asphalt shingle color trends
Nassau and Suffolk County shingle trends come and go. But asphalt is the reliable, flexible, and affordable roofing material you can depend on for a special kind of curb appeal with the enduring power to stay in vogue yet still feel familiar. Why go bold with asphalt shingles in 2021? Because countless color options give you the power to create a beautiful roof suited to your own signature style.
Darker colors—especially contrasting ones—are trending for their ability to add dimension and texture for a noticeable impact on a home exterior. The shades leading the pack this year are black, gray, silver, and bronze. However, light greens, light blues, neutrals, taupe, and light brown hues aren't far behind.
In the past, the color of a roof faded into the background. Today, dynamic roofing colors make aesthetic statements. Playing on the pattern of contrast, select dark asphalt roofing colors to stand out against homes with light colored walls—and vice versa.
2021 is the year to go big or [stay] home with high contrast color palettes. The trendiest colors are vibrant and impactful, injecting attitude into your Long Island home with small punches of color in places like trim, doors, and accessories. Pantone's color of the year—an energizing one-two punch of electric yellow and soothing gray—captures the essence of this trend in a noticeable way.
However, there's another asphalt shingle color trend that veers away from contrast and gravitates towards more subtle coordination. Embrace this trend by staying within the same color family for accents, trim, and roofing. Light gray siding with dark gray trim and light brown siding with dark brown trim both deliver the impact of this modern home exterior trend.
Black hues as accents
Shades of black—including ebony, onyx, and charcoal—capture another top exterior home design trend for 2021. Inject black into not just the main color of your home but also the accent colors including the door trim, window trim, soffit, porch banisters, and other accessories. And pair your black accents with browns, whites, and other colors that complement the color scheme to make a big statement.
Dark, earthy siding colors
Siding brings an instant impact to a home exterior. While grays, whites, and dark neutral tones are still on trend, brown, earthy tones are combing back into style.
Dark, earthy colors communicate strength, vitality, and stability, making a house feel like a safe haven. Warm shades of brown—including taupe, beige, and terra cotta—create warm palettes for a very natural look. However, other colors achieve a similar goal including maroon, navy blue, burgundy, forest green, and dark brown.
Big visual texture
Another trend for your Nassau or Suffolk County home is the integration of visual texture into a home's façade. Unlike a smooth wash, texture helps highlight unique architectural features, creating interest and character in areas including the window trim, roofing, and fascia.
However, siding is the easiest and most popular place for big visual texture. Dark siding colors with a subtle approach create a more noticeable difference than light colors. And you can elevate texture with shiplap, board and batten, and shake shingles.
Shake siding creates a weathered, natural look that warms up a home with extra layers of texture and visual interest. Complement the worn-in tone with equally soft and lived-in colors including sand, light gray, soft sea green, and pale blue.
Metal roofing
This home exterior trend is nothing new. However, a resurgence of popularity brought the metal roof back into the spotlight. A variety of styles, colors, textures, and shapes give homeowners with varying tastes a beautiful and unique metal roof to call their own.
Striking visual appeal, versatile design, high functionality, and durability together create curb appeal and structural protection. Built with a more unique exterior appearance than asphalt, the metal roof is something the neighbors will notice.
The metal roof repels—rather than absorb—water to prevent leaks. And the style can adapt to slate, clay tile, wood shakes, and other exterior materials. Metal can mimic other construction materials while at the same time protect a home with durability and longevity.
Metal costs about 20% more than other roofing materials. However, significant long-term, low-maintenance performance gives metal a long-lasting quality worth the investment. Expect a life span of up to 50 years from your metal roof with little to no annual maintenance.
Heat refection coatings also make metal roofs more energy efficient than other types of roofs. Asphalt can heat up an attic and house, for example, and increase air conditioning costs. The energy savings can lower the initial sticker shock of a metal roof for your Long Island home.
Painted brick
Painted brick is a surprising trend among homeowners with standard red, tan, or brown brick homes. Painting can breathe new life into a dated brick exterior. However, there are potential downsides including the almost impossible task of going back to the original brick color.
On the plus side, painted brick creates exciting new roofing, shutter, and door options that would otherwise clash with the original color. And a fresh new coat of white or neutral paint can create a dramatic difference over 70's-era yellows, oranges, and greens.
Serious outdoor living spaces
In the past, a sole pair of rocking chairs completed the outdoor porch décor. Today, more homeowners are embracing the trend towards elevated, extensive outdoor living spaces that accommodate a wide range of activities.
Seating is still important, so hang on to your rocking chairs, swings, or outdoor sofas. However, make some room for outdoor kitchens, sinks, grills, dining spaces, and other outdoor living trends surging in popularity.
Covered spaces—from pergolas to sheltered lounges—create even more robust outdoor spaces, accommodating the extra hours we spend outdoors at home. Pergolas especially make a stunning and practical addition for homes without outdoor porches.
A wide variety of pergola styles means you can select an open one for extra sunlight or a covered one to protect you from sunlight and precipitation. Choose from pergolas large or small, made from wood or vinyl, free-standing or attached to the house.
Solar shingles
Eco-friendly, energy-efficient roofs are skyrocketing in popularity as more Suffolk and Nassau County homeowners aspire to lower their carbon footprint. Solar power is one of the best eco-conscious solutions to conserve energy and protect the planet at home. However, two things make solar panels a problem: their size and appearance.
Oversized panels have a negative impact on curb appeal. But there is a better way to harness the energy of the sun: solar shingles.
Solar shingles mimic the look and function of more traditional roofing materials. These mini solar panels look more like run-of-the-mill shingles, creating a better visual appeal with new technology that protects a roof with same durability and flexibility.
How much solar power can your home generate? About 13 to 63 watts of energy per shingle. Solar shingles are lightweight, easy to install, and protect your home from rain, wind, and hail. However, there are some downsides.
Solar shingles are slightly less energy efficient than solar panels with a shorter lifespan. You also need a certain roof slip with high sunlight exposure to generate solar power. And you can expect to spend at least $60,000 more for solar shingles.
Solar shingles are new to the market. However, expect this home exterior trend to cover more homes throughout 2021 and beyond.
Transitional style
The last—but certainly not the least—home exterior trend is transitional style. A hybrid transition between traditional and modern, this style borrows classic, timeless elements of traditional design with clean sensibilities of modern aesthetics.
Capture transitional style through neutral color schemes with dark accents, minimalism, mix-and-match materials, and symmetry. Borrowing elements from various design styles, contrast natural elements like wood and stone with stark industrial metal accents.
Royal treatment for you and your Long Island home.
Are you ready to upgrade your Long Island home with new roofing, siding, or windows? At King Quality, our decades on the job and exclusive partnerships mean leading manufacturers trust us to install only the highest quality products. And our affordable financing makes your dream of a unique, quality-driven home a reality.
We put lifetime warranties, certified and award-winning installers, and low monthly payments behind every project to turn homes into castles. Call us today at 631-573-0642 to schedule a free consultation—and discover royal treatment for you and your home.
Finance your dream home
Start today. Pay tomorrow. One year. No interest. No payments.
5.99% interest rate after first year.
*Only on Simonton 9800 series, KingWall & Millenium 7 part roofing system.
Approval in 30 seconds or less.
More than 95% of our applicants get approved. So your dream home is just a quick phone call away.
Get Started