Protection and Prevention: Rodents and Your Roof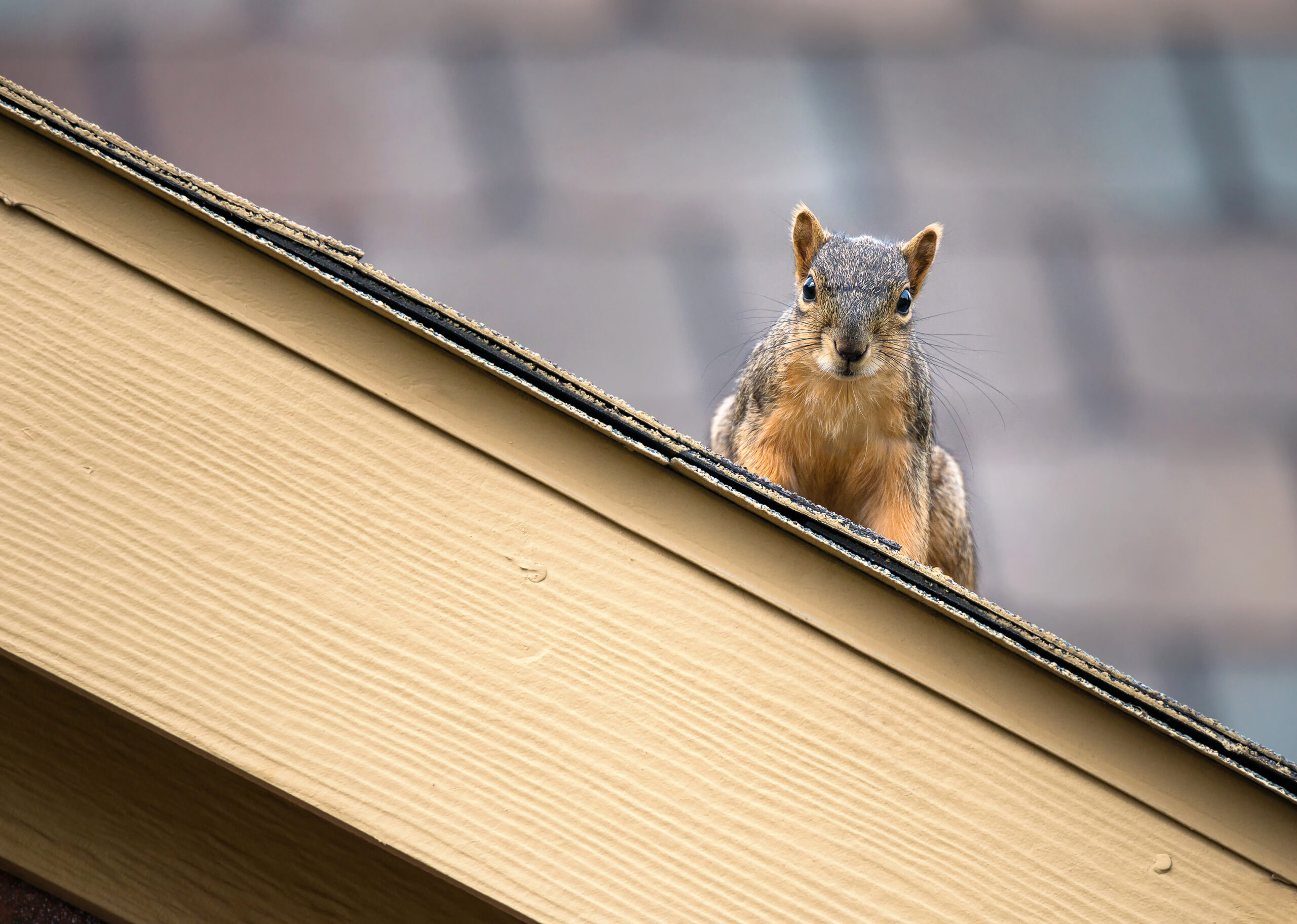 Squirrels, raccoons, and other types of rodents can wreak havoc on your home. Roof and attic damage can amount to expensive repairs, giving you ample motivation to prevent an infestation or invasion of furry critters and protect the huge investment that shields your home from Mother Nature day in and day out.
Rodents may peel up shingles, chew through decking, tear holes in soffits and fascia, and damage gutters. And the story gets worse once rodents get inside your home. Inside your attic, rodents may chew up electrical wiring, damage insulation, and cause harm to storage items you thought were safe and snug for the winter.
If you spot any of the most common signs of a rodent problem, get a professional roofer on the phone to head over in a hurry and track down any points of entry including gaps in soffits or fascia, openings in siding, spaces in ridge vents, and openings in an uncapped chimney.
How to Prevent Rodent-Related Roof Damage
Peace of mind begins with knowing how the rodents got there. But sleeping soundly at night means knowing how to keep rodents away from your roof in the long run.
Install a Drip Edge
A drip edge—a piece of metal that slides under the first row of shingles and hangs over the fascia's edge—helps prevent rodents from peeling up shingles, chewing through decking, and entering your attic. A drip edge protects your roofing, gutters, and attic, deters rodents from tunneling between the shingles and fascia, and prevents the hassles and expenses of rodent-related roof repairs.
Sealed with a strip of roofing cement and nailed on each end, a drip edge also helps water drain into the gutters and away from your home. Best of all, you can install a drip edge to prevent roof damage from squirrels and rodents without replacing your entire roof.
Trim the Trees Around Your Home
Squirrels climb trees—and any trees located near your roof provide easy access to your home. Trim any trees with branches that hang near your roof. And remember that squirrels can jump quite far, so try to keep a minimum of eight feet of space between your trees and roof.
Inspect Your Roof and Attic
A few times a year—typically after a storm—grab a pair of binoculars and inspect your roof and gutters from the ground. (It's safer than climbing up on a ladder—which is a job for a professional roofer). And climb up into the attic to inspect for animal droppings, torn insulation, or moisture.
Make sure your roof and gutters are in good working order. And call a roofing company for an inspection if you spot any damaged, missing, or cracked shingles. Always schedule a repair sooner rather than later to avoid more damage to your roof and home.
Keep Your Gutters Clean
Gutters and downspouts channel water away from your home, preventing water from pooling around the foundation as well as roof damage caused by moisture. Gutters clogged with debris and leaves can stop this process from working and give rodents and other pests a place to nest, leading to soffit or fascia damage as well as entry points into your attic where rodents can cause more trouble.
Gutter guards work to keep your gutters clean, allowing rainwater to get into the gutters but not leaves of other debris. Call a professional roofer to install gutter guards and to clean your gutters on a regular basis to prevent damage caused by rodent nesting.
Seal Openings in Your Home Exterior
Seal any openings in your home that allow access to rodents. Cap your chimney and make sure your siding remains intact to close up the more common entry points into your home.
What to Do About Rodent Roof Damage
The first step is to get rid of the pests and address their access point into your home. Call a pest control company to get rid of any live animals that have made their way into your home. After the animals are out, call your insurance company to cover the damage. And hire a reliable roofing company to work with your insurance company to repair your roof.
Royal Treatment for You and Your Home.
Ready to protect your roof and home from rodent-related damage? Contact King Quality today and discover royal treatment for you and your home.
Finance your dream home
Start today. Pay tomorrow. One year. No interest. No payments.
5.99% interest rate after first year.
*Only on Simonton 9800 series, KingWall & Millenium 7 part roofing system.
Approval in 30 seconds or less.
More than 95% of our applicants get approved. So your dream home is just a quick phone call away.
Get Started