Home Window Trends for Our Post-Pandemic World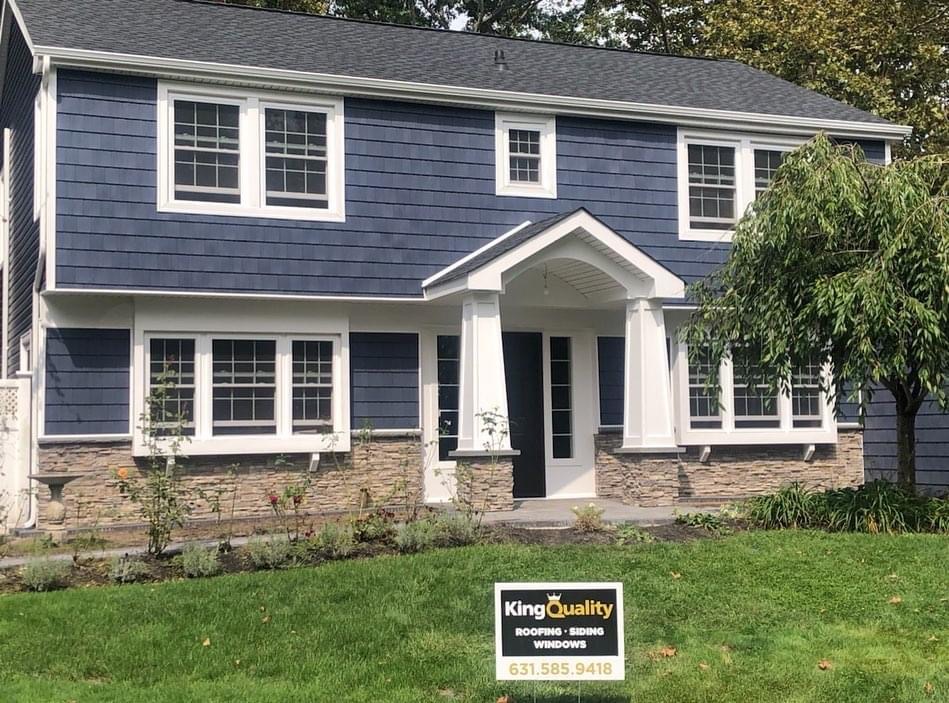 So much happened to the world during COVID-19. And what happened to the home improvement industry is no exception. Known as the era of home remodeling, the pandemic contributed more to modern home trends than any other influence over the past two years.
Significant lifestyle changes—ignited by people working from home, children learning at home, and families staying home—motivated more homeowners to refurbish their homes, tackle long-procrastinated projects, and make their dream home ideas a reality. And many homeowners discovered an ideal investment in a simple window upgrade.
Beyond introducing a fresh new look, the home window upgrade satisfied our desire for more natural light and ventilation, indoor to outdoor accessibility, energy efficiency and comfort, noise reduction, and more. Here are the top home window trends to emerge from the pandemic-induced home improvement movement.
Black-framed windows
Classic meets modern in one of the biggest window trends beautifying homes across the country. Black-framed windows make a simple, versatile, sophisticated, and elegant statement for a more dramatic look inside and outside the home.
Around for ages—but here to stay through growing popularity—this timeless, clean, and bold trend dates to the metal warehouse windows of the industrial age but works just as well with modern farmhouse, brick ranch, or contemporary architecture homes.
The classic, sleek look plays well with light and pairs perfectly with neutral or light-colored tones to create an amazing bold contrast. With the blackness of the grids outlining a focal point, black-framed windows create a picturesque view with the illusion of being in an art gallery.
In warmer climates, black-framed windows can absorb heat and increase indoor temperature. However, in homes with proper ventilation, the signature style is well worth the risk.
Window walls
In sports, we go big or go home. In post-pandemic home window remodeling, we go big and stay home.
Window wall popularity grew from our desire to simplify our lives and homes, while creating a sense of connectivity to the outdoors and our natural environment. And when the goal is welcoming more natural light into the home, the window wall—which is only growing more popular over time—proves bigger is better.
Oversized windows emerged as a pandemic-induced trend toward taller, wider windows, and broader expanses of glass. Substantial picture windows, floor-to-ceiling windows, and large bay and bow windows are fast becoming focal points.
Placing furniture to take in the view rather than focusing on a tv or fireplace introduces a fresh décor option in living rooms. And mirrors placed on the opposite walls extend the outdoor feel. Window walls not only improve the efficiency of daylighting—the process of illuminating a space with natural light—but also create breathtaking, scenic views from inside the home.
Energy efficient windows
Fresh air is the HVAC of choice for many people in many climates. Aesthetics aside, home windows are trending towards more budget-friendly and sustainable options. Energy efficient windows are becoming a standard in the window industry. And ENERGY STAR is becoming the norm for manufacturers and homeowners alike.
One popular example of the energy efficient trend is the awning window. Unique, minimalist, and designed for sufficient home ventilation, the awning window features a crank-out design that directs rain away from the window opening so that you can keep it open rain or shine. (Think of a casement window with the hinge on the top rather than the side.)
In the world of energy efficiency, single-paned windows are a thing of the past. Today, more homeowners choose double or triple-pane windows to keep the home more sustainable.
Built-in window seats
There's no shortage of adjectives to describe the modern built-in window seat: charming, practical, cozy, intimate, versatile—the list goes on.
This space-saving and stylish home addition—built with fitted cabinets or drawers for extra storage—maximizes living area and seating options without changing the layout of a room. Built-in window seats create inviting, comfortable nooks that give homeowners another way to enjoy outdoor views while reading, napping, relaxing, or chatting.
From double-hung windows in kitchen, to beautiful bay windows in the living room, to fold-away cranks with insulating, dual-pane glass, built-in window seats fit in any corner of the home, creating a tranquil vibe that works in almost every architectural style from colonial to contemporary and more.
Counter windows
Indoor meets outdoor living in this pandemic-induced home window trend born from our desire for more natural light, a sense of sanctuary, and a safe gathering space.
Positioned above a countertop, counter windows (also known as party windows) upgrade hosting and entertaining areas in the home. Counter windows connect the interior of a home—typically a kitchen—to outdoor spaces such as patios or decks, creating a serving pass-through system to transport food.
Simply swap out an existing window for a sliding or casement-style window and attach a serving shelf outside. The windows can pocket into the wall, slide out of the way, or stack to the side.
For even more natural light, sliding doors give homeowners another way to invite the outside in. Ideal for homeowners who desire a more spacious feeling without increasing the footprint of the home, sliding doors—especially in a wide three-panel design—create a sense of openness without adding space.
Simple to operate and maintain, sliding doors boast a sleek, unadorned style that brings outdoor views to the forefront of any room.
Customized window trims
Plain white synthetic trims are another thing of the past. Today, more homeowners want to stand out from crowd with custom window sizes, materials, and colors that add a personal touch to the home. From mixed and matched color schemes to vinyl windows with a stylish wood finish, customized window trims are a modern trend guaranteed to spruce up any home.
Sound-reducing impact windows
Human beings crave solitude, peace, and quiet. And with more people working from home, more homeowners are demanding sound-reducing windows to muffle the outside noise that creates a daily hindrance against our comfort and happiness.
Laminated sound-reducing glass—designed to withstand extreme weather events like hurricanes—also filters up to 99% of harmful UV rays that can damage the contents of your home.
High-quality, high-performing impact windows—built to absorb sound rather than transmitting it—give homeowners an effective and high-value way to create quieter indoor spaces that reduce noise and improve overall health and wellness.
Natural wood look meets vinyl practicality
Wood trim windows introduce a warm and natural touch to a traditional or rustic home interior. But natural wood has drawbacks including maintenance, rotting, warping, and low energy efficiency.
Vinyl window manufacturers now offer the authentic natural wood look in a broad range of woodgrain finishes from oak to maple to cherry. Well-constructed, energy efficient, and maintenance free, the classic wood look in versatile vinyl is a true win-win.
Royal treatment for you and your home.
King Quality is proud to be an exclusive distributor of Simonton 9800 Series windows and doors, transforming homes across Long Island into virtual art galleries. Our decades on the job as a preferred installer of Simonton 9800 Series windows and doors means we know how to get the job done right. Call 631-533-5204 today to schedule a free consultation.
Finance your dream home
Start today. Pay tomorrow. One year. No interest. No payments.
5.99% interest rate after first year.
*Only on Simonton 9800 series, KingWall & Millenium 7 part roofing system.
Approval in 30 seconds or less.
More than 95% of our applicants get approved. So your dream home is just a quick phone call away.
Get Started