Emergency Roof Repair: How to Respond When Mother Nature Calls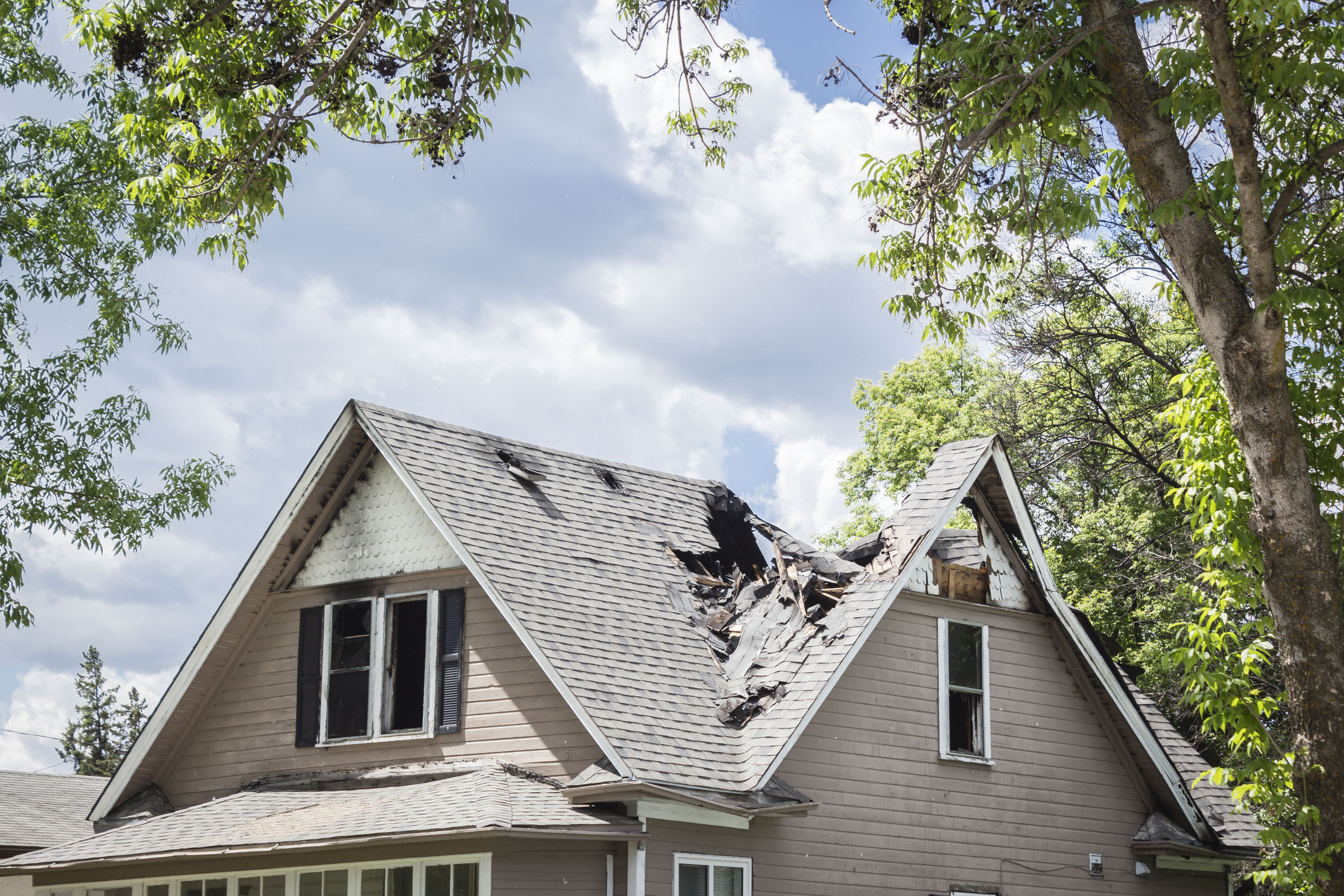 Mother Nature can interrupt your life in unexpected ways—like when high winds blow the shingles off your roof, when hail rips your roof apart, or when a tree falls on your roof in the middle of the night. And when emergency roof repair is the only option to keep your home and family safe, knowing what to do and who to call can mean the difference between panic and peace of mind. That's why King Quality is here to prepare you for the storm—or for whatever dilemma catches you by surprise.
Public Enemy Number One: Leaking Water
Leaking water is one of the most common reasons homeowners pick up the phone for an emergency roof repair. Water that infiltrates a compromised roofing system puts your roof and home on the fast track to interior and structural damage. Mitigating the damage means calling a roofer to patch or cover any holes, buying your roof and home valuable time until the roofer can assess the problem and propose a long-term solution.
The Triple Threat
But what causes a roof to leak? Mother Nature herself is the biggest threat. Three main culprits lurk behind a compromised roofing system: harsh weather, animals, and fire.
Winds up to 50 mph or more can tear the shingles from your roof and expose the substrate. Trees limbs torn from trees and tossed around your yard like sticks can penetrate the roofing structure. Lightning can blow a hole straight through your roof. Even on the gentlest of Mother Nature's days, raccoons and squirrels can chew sizable holes through rotted roofing material. And fire can destroy your roof layer by layer.
Emergency Roof Repair Rule Number One
There's a rule in roofing called Safety First—and a reputable roofer will abide by it at every turn to protect homeowners and workers alike. And the safest way to handle an emergency roof repair during high winds, heavy rain, snow, or lightning is to wait. There's little a roofer can do until after a storm subsides. But there's also little time to waste once the storm is over.
A roof damaged by fire creates even more reason to put safety first. A fire that compromises the structural integrity of a roofing system also compromises safe access to the roof. However, with all dangers identified and evaluated, the roofer can mobilize a team to bring the damaged roof back to a water-tight condition.
Emergency Roof Repair Rule Number Two
If Safety First is the rule for roofers, then the rule for homeowners is Don't Panic. The damage is done, so focus on the next steps. Call your homeowners insurance provider and find a professional, reputable roofer. And beware of storm chasers who travel door to door after a heavy storm searching for ways to profit from your own fears.
Always leave emergency roof repair to a professional who knows how to assess the damage. Trying to fix a damaged roof on your own can lead to even more problems including serious injury. However, feel free to document your loss and damages—in writing and with photos—so that you can get the most from your homeowners insurance policy.
Trust Us with Your Home
At King Quality, we put decades of experience behind our emergency roof repair to give you peace of mind. Contact us when Mother Nature calls you and discover royal treatment for you and your home.
Finance your dream home
Start today. Pay tomorrow. One year. No interest. No payments.
5.99% interest rate after first year.
*Only on Simonton 9800 series, KingWall & Millenium 7 part roofing system.
Approval in 30 seconds or less.
More than 95% of our applicants get approved. So your dream home is just a quick phone call away.
Get Started