Asphalt Shingles 101: Your Guide to a Durable, Affordable Roof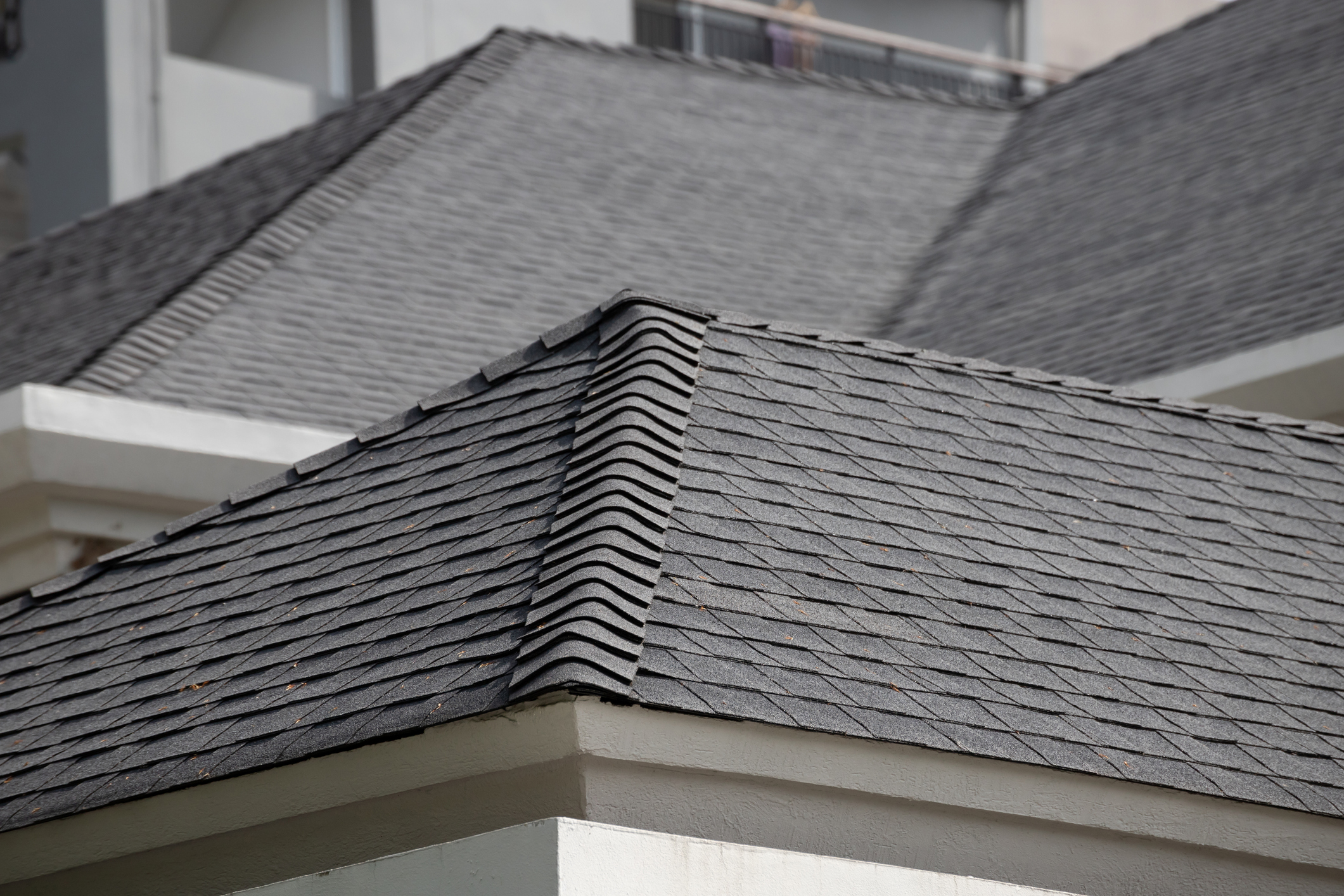 Durable yet affordable, asphalt shingles are the single most popular roofing material on the market today. Homeowners love the idea of a little-to-no-maintenance shingle, built to last for decades, and designed in a variety of shapes, colors, and styles to suit any taste. Asphalt covers almost 80% of roofs in America, setting the standard for traditional home aesthetics.
As a homeowner living in New York, you can expect your asphalt roof shingles to last an average of 15 to 30 years depending on the material. Premium architectural shingles, for example, last longer than basic 3-tab shingles. You might spend more for a better shingle—but the investment can pay you back in the long run.
New York is home to not only beautiful, historic houses but also some of the most variable weather in the country. From blazing hot and humid summers to brutal, frigid, and snow-covered winters, the temperature swings and climate changes are reason enough to select a roofing material built for superior protection against the elements. For a roof that can easily fit with a home architecture and withstand a lot of moisture and wide-ranging temperatures, asphalt is a trusted choice.
There are even more reasons for you to consider asphalt as your go-to shingle for your Long Island home. Whether you want to stay on budget with a 3-tab asphalt shingle, create a more dimensional look with architectural asphalt shingles, or top off an upscale home with luxury asphalt shingles, King Quality is here to show you why you can never go wrong.
Designed to fit just about any aesthetic
Think of a color and we can help you find an asphalt shingle to match. A wide variety of finishes and styles gives homeowners a diverse range of aesthetics to create their own signature style.
From 3-tab shingles with a linear style to more complex architectural and designer shingles, asphalt gives you the option to keep it simple or dress it up.
If you love the look of slate tiles but not the price tag, opt for asphalt shingles made to mimic expensive slate tiles or cedar shakes.
The variety of asphalt shingles on the market today compliments any architecture and makes any home unique—all without breaking your budget.
Built durable and for the long haul
A shingle's first job is to protect your Long Island home and family. It's second job is to last a long time—at least a couple of decades or more.
Asphalt made a name for itself in the roofing industry for its long-lasting durability, which makes manufacturers feel comfortable about backing their products with 15-to-30-year warranties.
However, some manufacturers only warranty products installed by a certified contractor. (At King Quality, our GAF-certified installers get the job done right to protect your investment and give you peace of mind for a lifetime.)
New technology enables asphalt shingles to hold up in inclement weather including hailstorms, ice storms, and even high winds which can launch flying debris and puncture substandard shingles. The drastic temperature changes we experience in New York can cause shingles and roofing systems to break down faster than expected.
Long-lasting durability means your asphalt shingle roof can stand up to Mother Nature for years to come.
Good for even architecturally unique homes
Homeowners with both architecturally unique homes and large homes with many features like dormers, skylights, and chimneys can find an asphalt shingle that works.
There is one caveat: most manufacturers recommend a minimum roof slope of 2:12 (meaning the roof rises in pitch by two inches for every foot of slope.) Some manufacturers recommend 4:12.
Why does slope matter? Because the wrong slope can move lateral water around the shingles and leak water into your home—among other common roofing problems.
Easy on your wallet
When you want to build a roof based on budget alone, asphalt wins every time. Compared with the average $16 per square foot cost for slate tile shingles, asphalt rings in at a much more affordable $1.50 to $5.50 per square foot. Fast installation also means asphalt shingles require less labor, which is the most expensive part of a roofing project. The bottom line: asphalt is good for your Long Island home and wallet.
Good for your planet
Older asphalt shingles that tear off a home go directly to the landfill and spend the next 300 years breaking down. Today, manufacturers build eco-friendly shingles that divert from the landfill and end up in recycling centers that reuse the materials for things like asphalt for roads.
Modern brands also manufacture shingles with eco-friendly practices. GAF, for example, builds asphalt shingles using recycled materials. You can feel good about not just your home and wallet—but also your planet.
Lower utility bills
Asphalt singles and underlayment materials—built to repel solar heat—shield your home from the summer sun, keep surface temperatures from spiking, and protect your home interior. Your HVAC system can stay on a more even keel for a more comfortable climate inside your home. Lower energy costs add to the overall value of asphalt shingles.
Protects against inclement weather
Asphalt shingles are a barrier of protection from hailstorms, sunlight, ice storms, and more. Impact-rated shingles can even lower your insurance premiums. High winds from traditional thunderstorms are less of an issue today than decades ago. Comprehensive testing ensures your asphalt shingles hold up to wind, resist moisture, and protect your home and family.
Resists algae and mildew growth
Shaded areas without sunlight are good for lounging outside over the summer—but bad for your roof. The sun can evaporate moisture in areas shaded by surrounding trees and grow mildew and algae.
Black spots on your roof are not just unsightly but also a threat to your roof's structural durability. Modern shingles made with built-in resistant features keep your roof from growing algae and mildew, creating an extra layer to protect both your roof and curb appeal.
Easy to install and repair
Easy installation makes asphalt shingles good for both the roofer and homeowner. When you hire a roofer who specializes in asphalt, scheduling a project is easier than if you wanted a more exotic material like terracotta, tile, or slate.
Asphalt shingles are also easy to repair and replace when damaged from flying debris or high winds, which is rarely the case with other roofing materials. At the end of the day, asphalt makes your life easier.
Low maintenance
Installed the right way, asphalt shingles are long lasting and easy to maintain. Hiring a quality contractor to install the highest rated shingles trusted by leading manufacturers means you can worry less about maintenance.
Environmental factors across New York including extreme temperatures, high winds, hail, snow, ice, debris, algae, and mildew can shorten a shingle's lifespan. When damage strikes, expect an easier time maintaining asphalt than a more complex roofing material.
3 types of asphalt shingles
Long Island homeowners can choose between three main types of asphalt shingles: 3-tab shingles, architectural shingles, and luxury shingles. Which one you choose depends on how your roof was designed including the slope, number of vents, skylights, chimneys, dormers, and other obstacles.
There is only one choice when price is the goal. However, homeowners with the budget to afford more extravagant designs will have no trouble finding one.
3-tab asphalt shingles
Also known as a "strip" shingle, the 3-tab shingle got its name from its design, which features three distinctive strips per shingle. It's the most basic asphalt shingle on the market, available at the lowest price point.
Made with one layer of asphalt and aesthetically flat compared to architectural and luxury shingles, the 3-tab features a linear appearance and flatness that appeals to many Long Island homeowners. Some homeowners prefer the linear design over the low price. However, the affordable price tag makes 3-tab shingles a household name.
3-tab shingles weigh less, which makes them easier to handle and install. Contractors charge less for labor and trust the 3-tab shingle as the go-to material for building inexpensive homes. Whether you love the low cost, design, or both—your new roof can look as good as it protects.
Architectural asphalt shingles
The first architectural shingle emerged during the 1980s and slowly ate into the 3-tab market with its distinctive style, dimensional look, and elevated curb appeal.
Mostly made with two layers of asphalt (and sometimes more), thicker design makes architectural shingles durable enough to last for 30 years or more, even in our alternating hot and cold New York climate.
Modern architectural shingles even replicate the look of natural slate or wood shakes. Expect to spend more but to offset some of that extra cost with a longer warranty.
Luxury asphalt shingles
For an entirely different and more extravagant curb appeal, luxury asphalt shingles will get the neighbor's attention. Built thick, durable, and available in a variety of shapes and colors, luxury shingles can suit any visual preference and even mimic cedar, slate, and more expensive roofing materials. Homeowners get the premium appearance without the extra cost and maintenance.
Nothing tops off an upscale, unique Long Island home like luxury shingles, which complete the overall appearance for an unmatched curb appeal.
Royal treatment for you and your home
Ready to upgrade your home with durable and affordable asphalt shingles? Our decades on the job and exclusive partnerships mean leading manufacturers trust us to install only the highest quality products. And our affordable financing makes your dream of a unique, quality-driven home a reality.
We put lifetime warranties, certified and award-winning installers, and low monthly payments behind every project to turn homes into castles. Call us today at 631-573-0642 to schedule a free consultation—and discover royal treatment for you and your home.
Finance your dream home
Start today. Pay tomorrow.
Approval in 30 seconds or less.
More than 95% of our applicants get approved. So your dream home is just a quick phone call away.
Get Started