Roses are Red, Violets are Blue, and for a Special Long Islander a New Roof Came True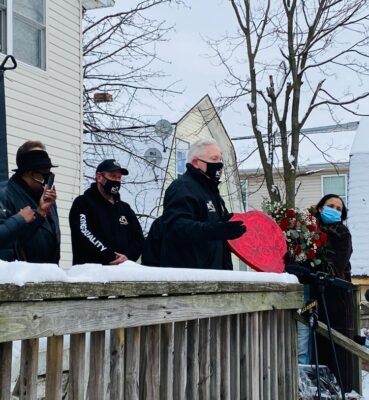 Life is full of setbacks—like when a back injury from a 2001 car accident forced Sandra Jenkins to retire early from her career as a registered nurse. But like a box of chocolates on Valentine's Day, life is also full of the little things that remind us just how much people care. And when the King Quality team learned about Ms. Jenkins' incredible story of giving back, we paid her charitable work forward the best way we know how.
Our mission is to protect what matters most including the roof above your home and everything you love beneath it. When we learned about Sandra's mission to help those in need—volunteering her time within the community and donating food to her neighbors affected by COVID-19 despite her financial strife—we saw an opportunity to make a difference for someone who does the same for so many.
In true Valentine's Day spirit, we teamed up with GAF, ABC Supply, and Superior Waste to donate and install a roof for Sandra's home as a special gift complete with a bouquet of roses, a heart filled with chocolates, and peace of mind for a lifetime.
Along with our very own Jeff Brett and the King Quality team, members of the community and the press joined us for the unveiling, which you can watch now on our Facebook or Now page.
On behalf of the entire King Quality team, we are fortunate to embrace the wonderful feeling of helping a giving and caring person like Sandra who reminds us why we do what we do every day.
"I am very grateful for the roof donation," said Ms. Jenkins. "My roof saw wear and tear in recent years and for many months, I was concerned about how to pay for a new one. King Quality answered my prayers. I am forever thankful for their generosity."
We thank you again, Sandra, for all that you do. Enjoy your new roof and the promise of protection.
Finance your dream home
Start today. Pay tomorrow. One year. No interest. No payments.
5.99% interest rate after first year.
*Only on Simonton 9800 series, KingWall & Millenium 7 part roofing system.
Approval in 30 seconds or less.
More than 95% of our applicants get approved. So your dream home is just a quick phone call away.
Get Started