Shirley NY Home Roofing, Siding and Window Replacement
New Roofing, Siding, and Windows for Your Shirley Home
Home improvement is a huge deal—but finding the right contractor shouldn't be. We've spent decades earning the privilege of upgrading and protecting your Shirley home and everything you love inside it. When you trust King Quality to upgrade your home with new roofing, siding, and windows, you can only imagine the possibilities.
About King Quality
Our dream of making home improvement affordable has made us the top-rated contractor on Long Island. We treat our customers like family. Today, we continue the next chapter by protecting what matters most—your home—and fulfilling your homeownership dreams.
Over the past three decades, we've come to know the Long Island climate like the backs of our hands. We understand the unique threats to your Shirley home including rain, humidity, temperature swings, and wind. We are experts in tailoring our approach to roofing, siding, and windows to the unique demands of your specific town.
Discover a partnership with a contractor who cares, where your dream of a unique, quality-driven home becomes a reality with our affordable financing. We put certified and award-winning installers, lifetime warranties, and low monthly payments behind every project to bring you a royal home improvement experience.
Precipitation
Rainwater is one of Mother Nature's most notorious threats to your Shirley home. From leaking roofs to pooling water around your home's foundation; from small components like flashing to big things like support structures; from ice dams to dangerous mold and mildew growth, rainwater can create a world of problems—and a strong roof built to last is your home's first line of defense against them.
Shirley homes get hit with about 48 inches of rain and 28.5 inches of snow every year. Precipitation falls about one out of every three days including a mix of rain, snow, sleet, and hail. July brings the most rainy days (16) and February brings the least (9). February also covers Shirley homes with the most days of snow (5.4).
Temperature swings
Shirley homes experience a mix of warm and humid summers and cold, snowy, and windy winters. The warm season lasts for three and a half months with an average daily high above 73℉ while the cold season lasts for 3.3 months with an average high below 47℉. The temperature rarely drops below 11℉ or rises above 89℉.
July is the hottest month in Shirley with an average high of 82℉, which is warmer than most places in New York. January is the coldest month with an average low of 23℉. There are four comfortable months per year with temperatures between 70℉ and 85℉ and the most pleasant months are June, August, and September.
Humidity
Shirley ranks about a seven out of ten on the comfort scale, which is more comfortable than most places in New York. Expect an overall comfortable humidity with some sticky or muggy summer months especially in July. The muggier period lasts 3.6 months from June to September.
The wind factor
The windier part of the year in Shirley lasts for six months from October to April with an average wind speed of more than 11.7 miles per hour. The calmer period lasts from April to October with an average wind speed of 8.9 miles per hour. January is the windiest month with a high of 14.6 mph winds and July and August are the calmest months with an average wind speed of 9.6 miles per hour.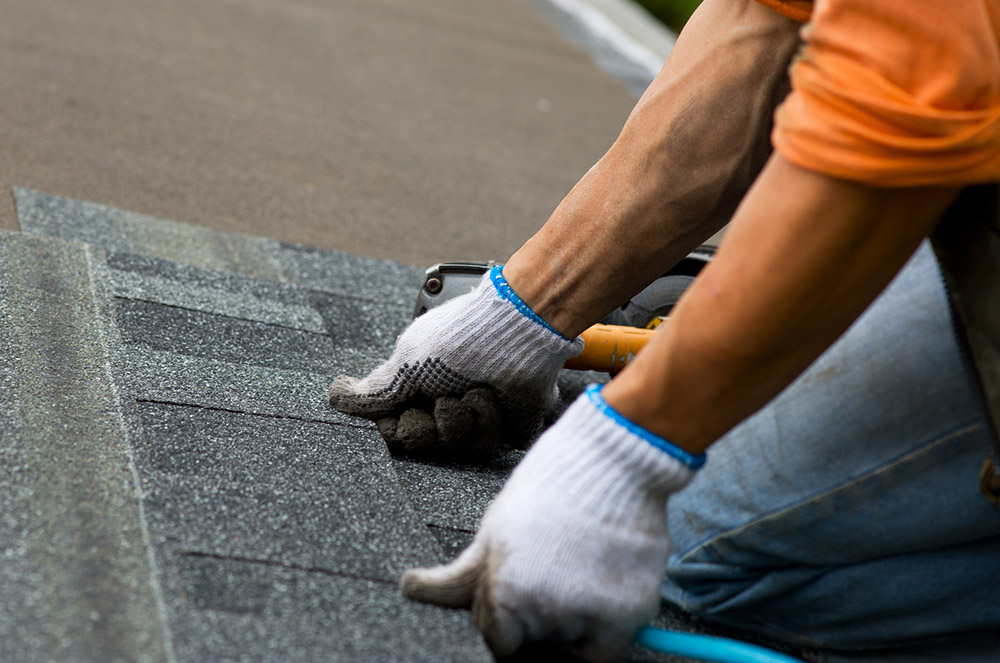 A durable roof built to last
Staying ahead of weather damage means inspecting your roof for weak, vulnerable areas with regular maintenance and investing in a complete roofing system built to stand strong for the long haul.
At King Quality, we invented our patented GAF lifetime roofing system to protect your home for decades. There are seven components that work together to bring you peace of mind for a lifetime:
Roofing assessment. We completely strip your roof to get to the heart of its strength and longevity and to examine the roof deck for damage.
Starter strip shingles. We install strips along the eaves of your roof to prevent shingle blow-off in strong winds.
Leak barrier. We install a self-adhering, watertight membrane to protect the most vulnerable spots of your roof from harsh weather.
Premium asphalt shingles. We help Shirley homeowners find the right lifetime asphalt shingles for their unique home, style, and budget.
Ridge vent. We install GAF's Cobra Attic Ventilation on the ridge to help remove heat and moisture from your attic.
Roof deck protection. We install an extra layer of protection to shield your roof from the impact of strong winds and heavy rainfall that may blow beneath the shingles.
Ridge cap shingles. We reinforce the hips and ridges of your roof and help protect against leaks.
KingWall siding checks every box
Protect your Shirley home with durable, affordable, and low maintenance vinyl siding. We engineer KingWall siding with an ultra-thick 6 to 7-inch reveal for maximum beauty and performance.
Advanced insulation technology keeps the heat inside your home and keeps the pests out. Select from a large variety of colors, textures, styles, and finishes to elevate your curb appeal.
Gain peace of mind from a brand name you recognize and trust with ultimate protection from both the manufacturer's lifetime guarantee and our unique 25-year workmanship guarantee. We write our warranties in big letters with no fine print so you can read every word.
King Quality Northeast Windows
Discover the ultimate combination of beauty, quality, and energy efficiency in high quality windows manufactured to the highest standards. Upgrade your home with the look and style of classic wood with the strength, energy efficiency, and durability of vinyl. Fusion-welded construction means you can worry less about wear and tear.
Enjoy year-round comfort and lower heating and cooling costs while adding curb appeal and a new dimension of living to your home. We designed exclusive windows for the Northeast with triple-pane glass that reads the angle of the sun, lowering your energy costs whether it's hot or cold outside—and it's all backed by a double-lifetime limited warranty.
Royal treatment for you and your home
Ready to upgrade your Shirley home with new roofing, siding, or windows? At King Quality, our decades on the job and exclusive partnerships mean leading manufacturers trust us to install only the highest quality products. And our affordable financing makes your dream of a unique, quality-driven home a reality.
We put lifetime warranties, certified and award-winning installers, and low monthly payments behind every project to turn homes into castles. Call us today at 631-573-0642 to schedule a free consultation—and discover royal treatment for you and your home.
Some of our most recent work...